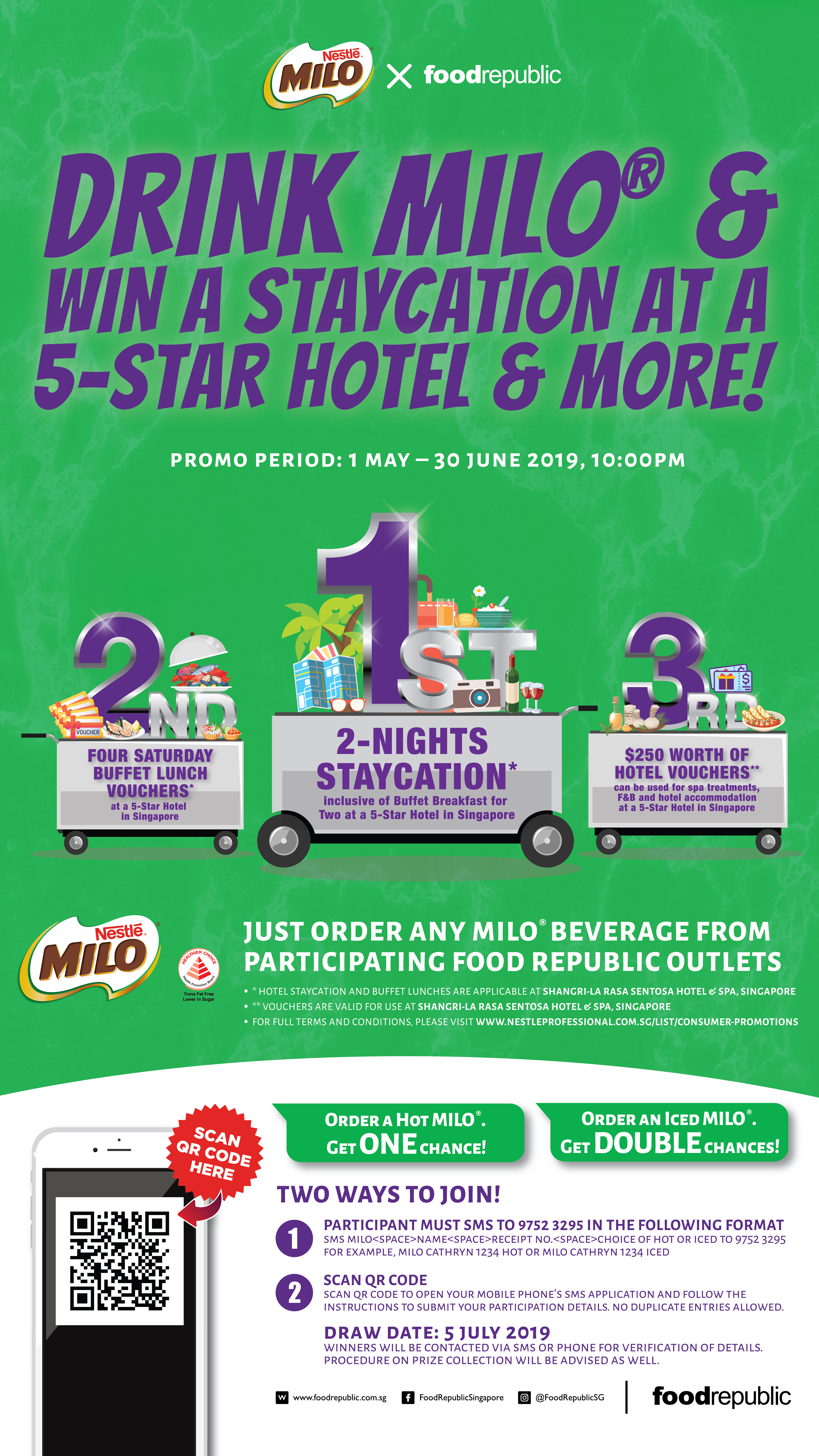 Purchase any hot or iced milo in a single receipt for a chance to take part in the MILO lucky draw and win one of the following prizes: 1st Prize: 3D2N Weekend stay for 2 2nd Prize: Saturday buffet lunch for 4 pax 3rd Prize: $250 cash vouchers for use in SPAs and more
To participate  in the lucky draw:
– Customers must purchase any MILO beverage in a single receipt (hot or cold, regular or large size) to participate in the lucky draw.
– Customers are to SMS their name, receipt number and choice of Milo to a number
– Customers can choose to Scan a QR Code
– Customers are allowed to submit multiple entries.
– Winners will be notified by 5 July 2019 via SMS.
Lucky Draw Period:
1 May 2019 (Tuesday) to 30 June 2019 (Sunday)
Terms & Conditions:
1. This Lucky Draw is organized by NESTLÉ SINGAPORE (PTE) LTD, of 15A, Changi Business Park
Central 1, #05-02/03, Eightrium @Changi Business Park, Singapore 486035 ("Nestlé").
2. The Lucky Draw is open to all individual Singapore residents who are:
Aged 18 and above as at the start of the Lucky Draw Period (as defined below), (collectively the "Lucky Draw Period"). Participants below the age of 18 shall obtain the necessary consent from their parents/legal guardians before participating in this Lucky Draw and submitting any personal information, and shall furnish such proof of consent should organizers require it; and
Not prohibited in any manner by any person, entity, authority or law anywhere in the world from participating in this Lucky Draw or any similar lucky draw.
Employees of: (a) Nestlé, (b) Nestlé's advertising agencies and (c) Food Republic and the immediate family members of these employees, are not eligible to participate in the Lucky Draw.
Tenants of Food Republic and their immediate family members are not eligible to participate in the Lucky Draw.
By participating in the Lucky Draw, each Participant represents and warrants that he/she has met the
Eligibility criteria stated in these Lucky Draw Terms and Conditions.
3. LUCKY DRAW
By entering the Lucky Draw, participants agree to be bound by and to comply with the T&Cs. Non-compliance with or breach of any of these T&Cs may disqualify a participant at any stage of the Lucky Draw, and any prizes won may be forfeited.
Lucky Draw is valid from 1 May 2019 to 30 June 2019 22:00 hrs
Every order of a MILO beverage (Hot/Iced) from participating Food Republic outlets entitles the Participant to a lucky draw chance when they submit their entry, including a photo of their original receipt in the system. Only original receipts captured in the system are accepted.
Incomplete entries will be disqualified.
Management reserves the right to amend any of the terms & conditions without any prior notice.
A Participant must SMS to 9752 3295 in the following format to enter the draw.
MILO <space> Name <space> Receipt No. <Space> Choice of HOT or ICED
E.g. MILO Cathryn 1234 HOT
E.g. MILO Cathryn 1234 ICED
A Participant can also scan the QR code on the artwork which will automatically open the mobile phone's SMS application to fill in details (images are for illustration purposes only)
After the above, the participant will then receive a verification reply SMS that has a unique link for them to upload the receipt image. The SMS will read "Thank you for your participation. Please upload the image of your receipt here: (URL). Good Luck!
11. No cash alternative to the prizes will be offered.
12. Food Republic reserves the right to withdraw the prize from the winner and pick a replacement in the event that selected winner(s) is/are uncontactable within two (2) days upon notification.