Featured China/Hongkong/Taiwan Stall
Piao Xiang Mala
Piao Xiang Mala is one of the pioneers that introduced Singaporeans to the concept of enjoying a spicy and numbing meal that leaves us coming back for more. With our first outlet opened at 313@Somerset in 2009, Piao Xiang has built a loyal fan base and promises to thrill more with its opening at Food Opera. What makes Piao Xiang special is the chef's expertise in incorporating the "wok hei" (heat of the wok) into the dish. This heat, coupled with Piao Xiang's special Mala sauce made from over 20 differences spices and herbs that is cooked overnight, delivers an unforgettable experience to all Mala fans. Besides the usual pick of your favourite items for your Mala meal, expect specialty items like Mala Crab, Spicy Chong Qing Fried Fish, and Chicken Hot Pot.
Outlets:
Food Opera @ ION Orchard
|
Food Republic @ 313@Somerset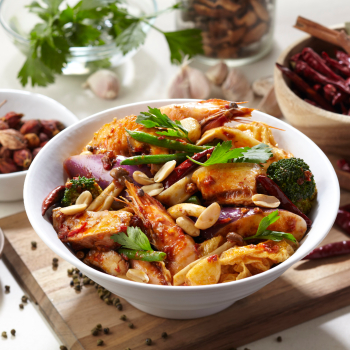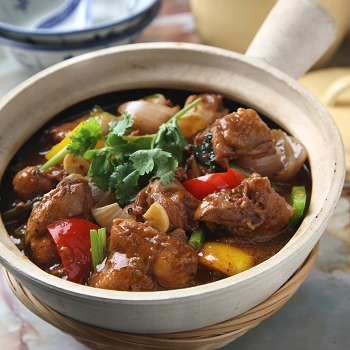 Divine Chicken Pot
Using a recipe that's more than 2 generations old, Divine Chicken Pot brings us flavours of Sichuan in a comforting hot pot. Imagine a pot of freshly marinated chicken cooked with spices and sauce that will tantalise your taste buds. Then, build on your meal experience by adding on fresh meat & veg platter to cook in your hotpot base. Be spoilt for choice with the add-ons and free soup refills.
Outlets:
Food Republic @ Wisma Atria
|
Food Republic @ Westgate
Xing Hua Lou
Putian community, also known as the Heng Hwa, are a minority as compared to the other Chinese dialect groups in Singapore like the Cantonese, Hokkien, Teochew and Hakka. Hailing from the coastal area, of Fuijian province, Heng Hwa cuisine consists mainly of seafood and pork. Xing Hua Lou offers affordable and authentic Heng Hwa dishes in a casual setting. Try their specialties like Heng Hwa Fried Bee Hoon, Mee Sua, Lychee Pork, and a variety of other comforting dishes.
Outlets:
Food Republic @ Parkway Parade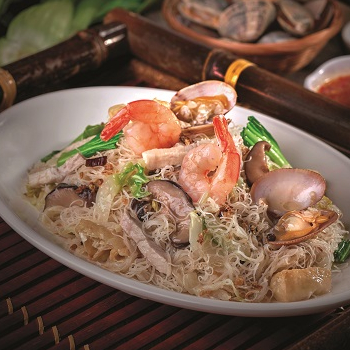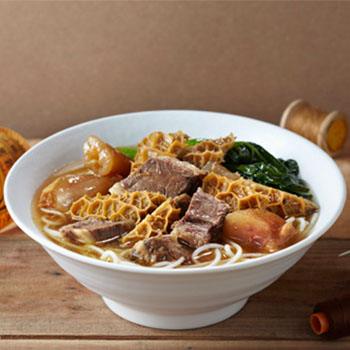 Brisket King Beef Noodle
It all began with a bowl of beef noodle at one of the eateries in Hong Kong that propelled Mr Tan to set up Brisket King in Singapore. With fond memories of slurping down the silky noodles, tender beef briskets and aromatic broth, Mr Tan felt compelled to invite the Hong Kong chef from his favourite stall to Singapore to help him fulfil his dream of opening a beef noodle stall. Mr Tan's determination had paid off as he opened his first outlet in Balestier in 2008 and has garnered loyal fans since then.
Signature Dishes: Beef Brisket Noodle, Beef Tripe and Beef Meatballs
Outlets:
Food Republic @ Shaw House
|
Food Republic @ City Square
Guan Chee HK Roast
Established more than three decades ago, Guan Chee Roast serves up tasty dishes such as Smoked Duck and Char-grilled Roasted Duck. The succulent meat is marinated in Chinese herbs and smoked to perfection. Top grade ingredients are blended with their home-grown recipe. Another local favorite is their Honey Glazed Char Siew, which leave your taste buds tingling for more.
Signature dishes: Pipa Duck, Herbal Duck and a whole range of traditional Hong Kong roast.
Outlets:
Food Opera @ ION Orchard
|
Food Republic @ Nex
|
Food Opera @ Parkway Parade
|
Food Republic @ Suntec City
|
Food Republic @ Wisma Atria
(Pipa Duck is only available at Wisma Atria.)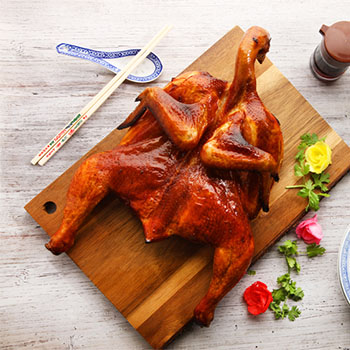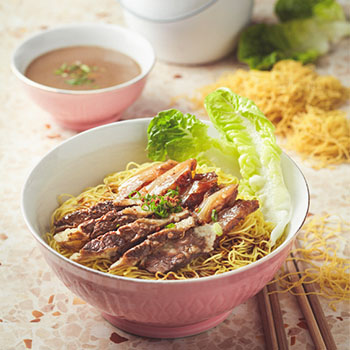 Hok Kee Authentic Noodle & Congee
If you're craving for some authentic Hong Kong noodles, Hok Kee serves up its delicious famous noodles, which has been awarded 'Ten Best Delicacies in Yuen Long' since 2000. With more than 60 years of heritage, Hok Kee's specialties of stewed beef and tripe, and salted chicken congee have been winning over legions of fans. It's signature Braised Beef Brisket Noodles (五香牛腩面) is the culmination of 60 years of constant experimentation and improvement. The thick gravy is brewed from a complex mixture of 10 spices, including cinnamon, cloves, pepper and star anise.
Signature dish: Braised Beef Brisket Noodles
Outlets:
Food Republic @ Wisma Atria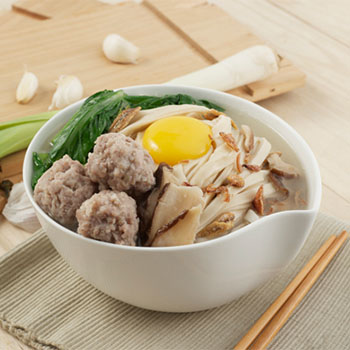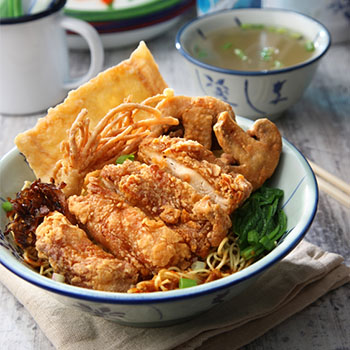 RedRing Treasures
RedRing Treasures specializes in crispy and succulent chicken cutlets served on top of their signature Red Sauce Noodles. RedRing is a playful reference to the rim of sauce around a plate of perfectly tossed noodles. Rich in natural umami from broths boiled over numerous hours, it is the one dish that keeps drawing back the crowds.
Signature dish: RedRing three-cutlet noodles (comes with chicken, pork and fish fillets breaded and deep-fried), wanton noodles
Outlets:
Food Republic @ Wisma Atria
Ding Ding Candy

Ding Ding Candy is a type of traditional candy that was popular in the 60's – 70's. It is a hard maltose candy with sesame and ginger flavours. Many will relish their childhood when they hear the "Ding Ding" sound by the Ding Ding Candy seller.