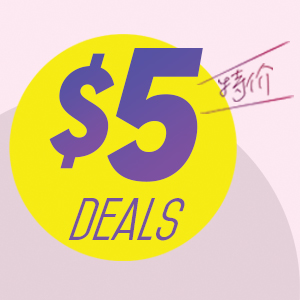 Irresistible $5 Deals at Food Republic VivoCity
Indulge in an array of delicious and mouth-watering dishes for only $5 at your favourite stalls in Food Republic VivoCity!
Stall Name
Promotion
Bu By Shen Xi
ABC Soup ABC 汤 (U.P. $6.90)
Fat Cat Grilled Fish
4 Sticks of Beef/Lamb/Chicken BBQ Skewers
四条烧烤串串 (牛肉/羊肉/鸡肉)(U.P. $6.00)
Formosa Delight
Ban Mian Soup 板面汤 (U.P. $6.00)
Huat Huat BBQ Chicken Wings
Carrot cake white (L) 白萝卜糕(大)(U.P. $6.50)
Hum Saap
Thai Fried Vegetable Spring Roll

泰式炸素春卷 (U.P. $7.00)

Jia Jia Le Cuisine
Crispy Chicken Chop Set 香脆鸡扒套餐 (U.P. $7.00)
Lotus Vegetarian Kitchen
Vegetarian Fried Brown Rice Bee Hoon 素炒糙米米粉 (U.P. $6.90)
Mr.Tong Snail Rice Noodle
Chinese Hamburger 老潼关肉夹馍 (U.P. $5.50)
New Hong Kong Roast
Char Siew Rice 叉烧饭 (U.P. $5.80)
Oyster Co
Shredded Chicken Mee Sua 鸡丝米线 (U.P. $7.90)
Rui Feng Korean Cuisine
Kimchi Ramen (Chicken/Pork/Beef/Seafood)
泡菜拉面 (鸡肉/猪肉/牛肉/海鲜) (U.P. $6.00)
Sergeant Chicken Rice
Shredded Chicken Macaroni Soup 鸡丝通心粉 (U.P. $5.50)
Spinach Chef
Fried Chicken Cutlet Noodles (Dry)

炸鸡排面 ( 干) (U.P. $6.50)

Washoku Goen
Tonkotsu Kake Ramen 豚骨拉面 (U.P. $6.90)
Yuan Yummy Hokkien Mee
Fried Hokkien Mee 炒福建面 (U.P. $5.50)
Terms and Conditions:
Promotion is only valid from now to 23 April 2023 at Food Republic, VivoCity.
Takeaway charges apply.
Each respective promotional T&Cs apply.
Not valid with other ongoing promotions, discounts, privileges or cashbacks.
The Management reserves the right to amend any terms & conditions without prior notice.
Images used are for illustrative purposes only.