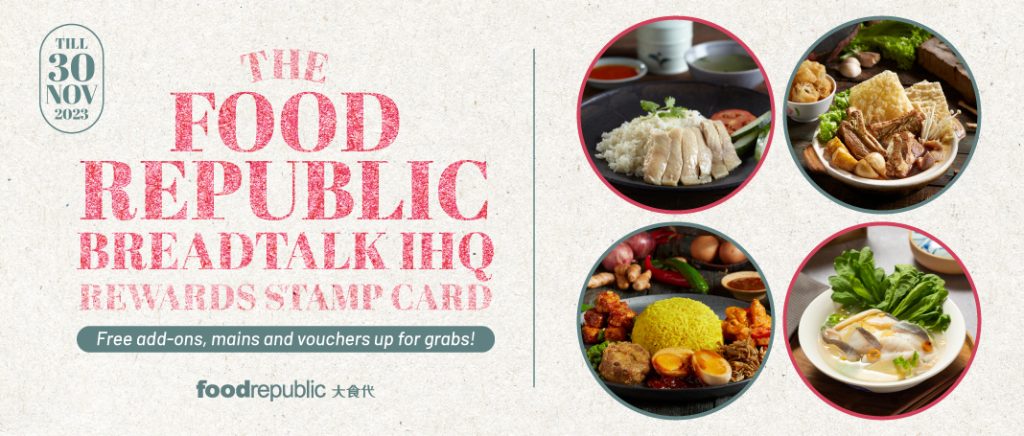 Elevate your cravings at Food Republic BreadTalk IHQ with our exclusive Rewards Stamp Card!
Savour mouth-watering treats while unlocking a myriad of FREE Add-Ons and Mains, including local favourites such as Chicken Rice and hearty Bak Kut Teh Soup. 🍲🎉 Simply collect Food Republic stickers as you order from participating stalls by November 30, 2023!*
*Participating stalls include Sergeant Chicken Rice, Feng Xiang Bak Kut Teh, First Street Teochew Fish Soup and Sindo Padang. T&Cs apply.
✨ BONUS ✨
Complete your Rewards Stamp Card to redeem $10 worth of Food Republic vouchers*, limited to the first 500 redemptions only. ($10 Food Republic vouchers may be redeemed at Food Republic's Management Office, located beside Sindo Padang, upon presentation of the completed stamp card)
Terms and Conditions:
The Food Republic BreadTalk IHQ Rewards Stamp Card and all add-on/voucher redemptions are valid till 30 November 2023, only at participating stalls in Food Republic BreadTalk IHQ.
Minimum spend required per Food Republic sticker is based on final bill amount after any discounts, vouchers, privileges and offers.
Only one stamp will be issued for each transaction that meets the minimum spending requirement.
All free add-ons must be redeemed in the same purchase, except for vouchers. Other voucher Terms and Conditions apply.
While challenge cards last.
Takeaway charges apply unless otherwise stated.
Challenge cards cannot be combined.
Damaged or mutilated challenge cards will not be accepted.
Redemption of $10 Food Republic IHQ Dining vouchers upon completion of challenge card are limited to the first 500 customers on a first-come-first-served basis only.
The Management reserves the right to amend any Terms and Conditions without prior notice.
Images used are for illustrative purposes only.